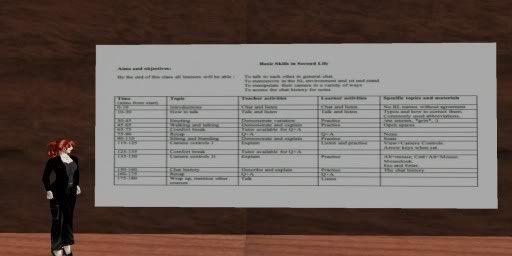 The idea behind the autoplay system arose, as quite a few of my products do, from a request from an individual who wanted something that would let him run presentations in Second Life without actually being present. The idea is fairly simple - you prepare a presentation: words, pictures and sounds, and then you code this into a notecard (there is very little coding, an indicator for the images and sounds to indicate they should be played rather than spoken, the speech is just written directly into the card. When ready, people can touch the screen to start a presentation that will play itself through and then stop. It will display the images and play the sounds at the appropriate times.
Of course the scripting has a couple of extra twiddles in it to make it work nicely. For example, the system pauses between each line. The pauses are, as standard, dependent on the length of the utterance - it makes reading the lines easier, because you get a bit longer to read a longer line than a shorter one. In addition to this you can adjust the speed of the reading: imagine you are presenting a complex diagram - you can make the reader slow right down for a few lines to let people examine the diagram carefully.
The help card for this system is actually a presentation in and of itself. Below is the edited version of this: I've left it intact, but chosen to present it as a bulleted list for clarity.
|t ada79971-83b4-7497-b92e-78d2875a9791
Hello, thank you for choosing the autoplay system from Eloise Pasteur.
The system is designed to be easy to use, and is copiable for your convenience. It is no transfer and the scripts are no modify, but the display board IS modifiable so you can resize it to suit you.
The script will trigger when touched. It will read the notecard called display in the item's inventory (this card is duplicated in the help card just in case).
Once it is playing it will play all the way through automatically.
If you want the object to say something you just type the line. NB. There is a maximum of 255 characters. There is a small delay built in to let people read each line comfortably before the next line/slide/sound is launched.
If you leave a blank line, the object will still appear to speak, but say nothing.
See? :)
You change slides by putting them on a new line that starts with |t then a space, then the texture's name (the texture must be in the object's contents for this) or key (like the first line).
|t Water Particle 1
See, it's that easy. Remember pipe t-for texture (the | character is called pipe, and is used to send information to places in UNIX in case you're interested) and the line |t Water Particle 1 caused the change.
Try to have a few lines of text between new textures - the textures I'm pointing you to are small ones, but can still take several seconds to load.
You can also play sounds, using |s and the name of the sound (which must be in the object's contents again) or its key (in which case the sound clip can be elsewhere).
|s 534a1b53-d666-58b1-4670-4fb2d1017854
Recognise that sound? It really is that easy. The mnemomic this time is pipe-s for sound. Sounds can take a little while to load too. To save on script memory there is no way to avoid this unfortunately.
|d 5.0
If you find the default speed is too slow, or too fast you can change it using |d and a number, e.g. |d 5.0 - remember pipe-d for delay. This is five times slower than normal.
pipe-d gives you a multiplier to the normal speed, and can be changed as you go along, so you can have faster and slower sections as you want.
|d 0.1
If you try to set the speed to a silly number (smaller than 0.1) it bottoms out at 0.1 - that's ten times *faster* than usual. There's no slowest speed defined - there are limits to how much I can protect you...
And anyway, if you've got a complex diagram and a complex paragraph you may want it to go *really* slowly.
|d 1.0
Those last two lines were as fast as possible - see why there's a fastest speed built in? :) We're back to normal now.
I considered letting the users pause the display, but it's just too prone to griefing and this lets you achieve a similar result with less chances for them to mess it up.
In the current version, however, you can insert pauses or stops and control who can restart the system - see below.
The good news: using this low memory footprint system makes it safe to write long notes - the 24k Notecard limit and the 255 characters per line are your only limits.
This also helps your write grammatical lessons, since your punctuation marks aren't a significant memory drain (assuming you can write grammatically in the first place of course!).
Oh - and to make it easy, the script displays the object's name and "please touch me to start playing." You can use this to set the object's name to the class topic, and have it displayed quickly.
I suggest you change the object's name FIRST. If you forget, just play the display through and the script will reset the hovertext to the name when it finishes playing.
NOTE: If the dataserver is having a brainstorm, which it can, edit the display card (just put a space in and take it out again) and save it. You'll see this because the board will flip to saying "Running" in green and straight back to "please touch me."
There are two new commands in this version.
First, |a for access. You can add all, group or me after that, e.g. |a all means anyone can touch the object to start it playing (this is the default).
Or, |a me means that only you, the owner, can touch it.
Using |a group means only group members with the group tag active can touch it.
Remember pipe-a for access
You will need to run the card through once to set this - but that's good practise to make sure no lines are too long anyway.
Second is |p for pause. You can give a time if you wish, in seconds, e.g. |p 30 will stop the display for 30 seconds. If you put nothing after the |p the pause will be permanent (a stop, but |s is already in use).
If the display is paused it will restart on the timer if you've set that. You can override that, or restart after a stop when someone allowed to touch the screen under the access rules touches it.
The hovertext will also change to say paused.
There's a stop coming up - see the text change and touch the screen to restart the display, and see the last few comments.
And remember pipe-p for pause
|p
Welcome back!
We've got another pause, this one only for 5 seconds coming up so you can see that working too. If you don't touch the screen it will restart after a brief pause - but that could be as long as you like.
|p 5
Welcome back again. That wasn't too bad was it?
Oh, and a final tip... set your "resting" texture at the end so it stays on display!
If you'd like to sell your classes, and sell this display in parallel, please IM me for a discussion of how to achieve this. The normal solution is for me to sell from your location.
Thank you, good luck and good teaching!
|t ada79971-83b4-7497-b92e-78d2875a9791
---
I am not in any way affiliated with Linden Lab. This site advertises my work within their virtual environment.

The terms Second Life, Linden Lab and SL are trademarks belonging to Linden Lab. No infringement of their trademark is intended. Usage here is nominative.